Introduction
WP Full Stripe Members is a membership add-on for WP Full Stripe that allows you to create protected content that only subscribed members are allowed to view.
Multiple membership tiers are available so you can offer different levels of membership, each one tied to a different subscription plan. Members can use the Customer portal page that allows them to update credit card details, change their subscription plan, and cancel their subscription.
This article explains how WP Full Stripe Members works, and how you can install and configure it.
Installation
You can install WP Full Stripe Members in the same way you'd install WP Full Stripe.
If you purchased on our website then Installing WP Full Stripe is the way to go, and if you purchased on Envato then Installing WP Full Stripe (Envato) will explain the procedure.
Sign-up flow
Prospects sign up on WP Full Stripe subscriptions forms.
The sign-up flow looks like this:
Prospect selects a subscription plan, and submits the subscription form.
WP Full Stripe creates a subscription and customer in Stripe.
WP Full Stripe Members performs some steps (if plan is assigned to membership level):
3a) Creates a Wordpress user.
3b) Adds "Subscriber" and membership roles to the Wordpress user.
3d) Creates a member which ties together the Wordpress user, Stripe customer and the subscription.
3d) Sends email to Subscriber with the login credentials (user, password).
WP Full Stripe displays a success message to Subscriber.
Please refer to the "Configuring WP Full Stripe and WP Full Stripe Members" section below to configure both plugins.
Configuring WP Full Stripe and WP Full Stripe Members
1. Create subscription plans
Create your subscription plans (recurring prices) on the Stripe dashboard. For the sake of demonstration, we've created three plans (Bronze, Silver, Gold):

2. Create a subscription form
Create an inline or checkout subscription form on the 'Full Stripe / Subscriptions / Subscription Forms' page in WP admin.
Make sure to add the subscription plans from Stripe the form will offer to customers: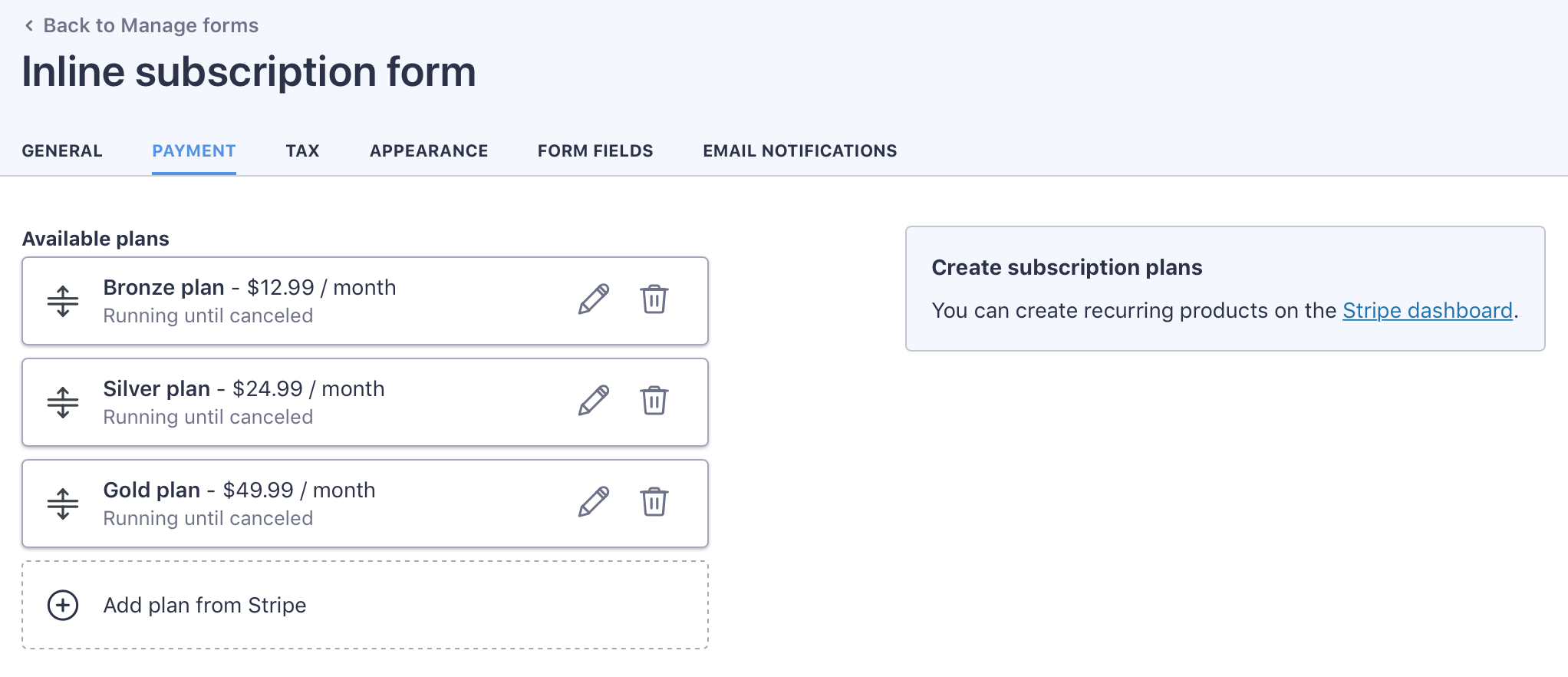 3. Embed the subscription form into a page
Get the shortcode of the form, and insert it into a page: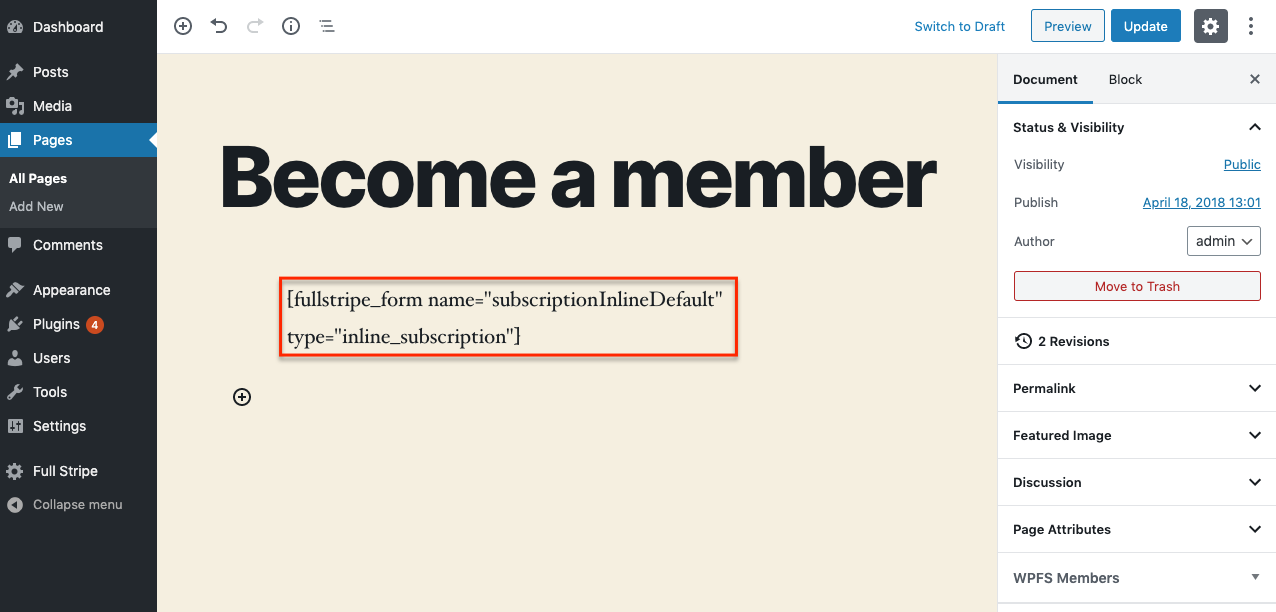 4. Assign subscription plans to membership levels
If subscribing to a plan should create a member then you have to assign the plan to a membership level.
You can assign subscription plans to membership levels on the 'Full Stripe / Members / Roles' page in WP admin:
Important notes:
Only plans assigned to a membership level will trigger creating members upon subscription.
Only one plan can be assigned to a membership level.
(We plan to relax this limitation in a coming release)
The membership levels are fixed, you cannot add new ones in the UI.
(Contact us if you'd like to add new membership levels by modifying the code)
There is no need to configure all membership levels, just leave the unused ones as 'Not used'.
5. Customize the email template sent with login credentials
WP Full Stripe Members sends a registration email with login credentials to new members.
You can customize the email template on the 'Full Stripe / Settings / Email Notifications / Templates' page in WP admin: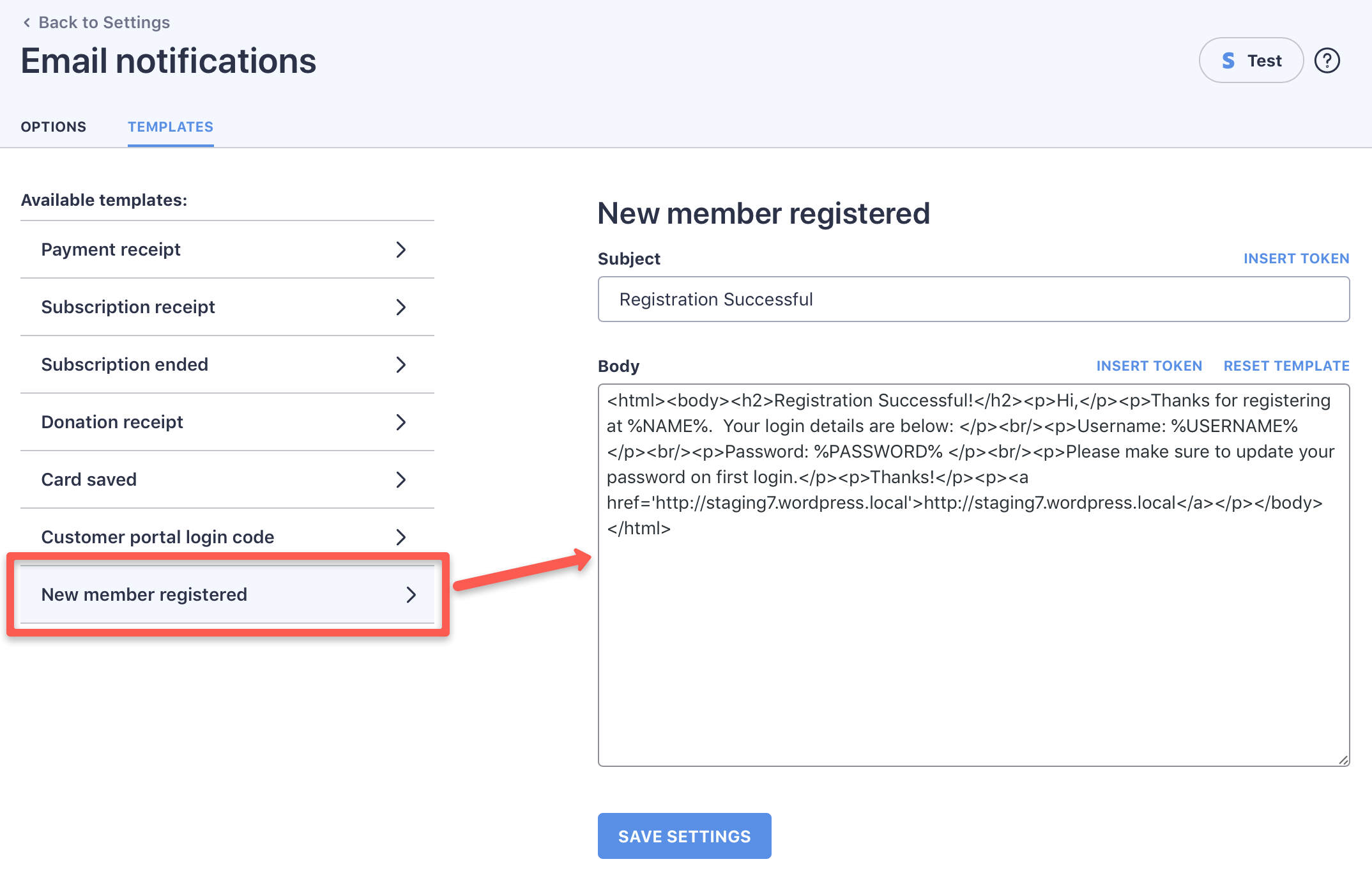 Important notes:
You can use the following members-specific placeholders in the email template: %USERNAME% - The username of the member (it's the email address specified on the subscription form) %PASSWORD% - The generated password
For more placeholder tokens, please refer to the Using placeholder tokens knowledge base article.
Configuring the 'Customer portal' page
Insert the [fullstripe_customer_portal authentication="Wordpress"] shortcode into a page or post you'd like to turn into the Customer portal page:

Configuring your protected content
In order to protect a page or post, you must tell WP Full Stripe Members that the content is subscriber only, and also that it's available at a membership level and beyond.
You can configure content visibility by editing the article, and configuring it on the 'WPFSM Members' pane: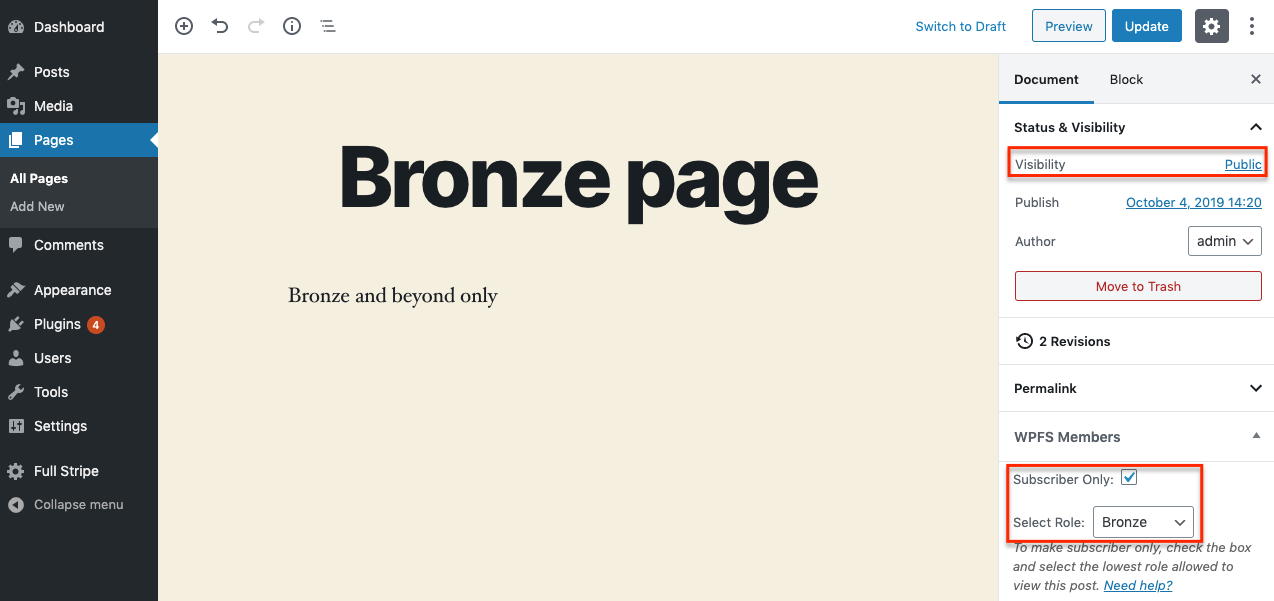 Important notes:
For users not having sufficient permissions to view the content a HTTP 404 is displayed.
(It's possible display the login page, and redirect to a page if the user has unsufficient permissions. Contact us if you'd like to modify the code)